Society for the Aged Sick

Event Management & Roadshow Team is going for a community event
at Society for the Aged Sick.
Date: 23rd September 2009
Time: 1pm - 5pm
Click here to go to Society for the Aged Sick website.



About Them





In 1965,
Ms Ursula Khow and her sister, Ms Teresa Hsu founded "Welfare Resthome"
to care for the aged sick and destitute at No. 27 Jalan Payoh Lai,Singapore 537661.
Ms Teresa Hsu was also the first matron of the Home.

Since the Home then could shelter only 16 residents, there was a need for expansion.
Ms Khow approached Mr. George Gray Thompson for assistance and together with a group of friends
from Rotary Club, Mr. Thompson formed the Society for the Aged Sick
which took over "Welfare Resthome" on 14 February 1968.

Ms Khow donated her piece of land at 27 Jalan Payoh Lai to the Society
and the Society took over the overall management of the land and building.
Four one-storey houses with a common kitchen were then planned to cater for 100 residents.

The foundation stone was laid on 30 August 1969 by Puan Noor Aishah,
wife of our first President Yusof Ishak, and the Home was officially
opened by Mrs. B.J. Sheares, wife of our second President Sheares
on 6 November 1971.

With the ever growing waiting list of prospective residents,
the extension to accommodate more residents was done twice and in 1983,
the Home had 9 wards to accommodate 180 residents at full capacity.

In 1991, the Society was notified of the government acquisition
of the land at 27 Jalan Payoh Lai. In January 1999 the Home shifted
to the new 3-storey building with 192-bed capacity at the current location
of 130 Hougang Avenue 1. In 2006, an additional 4th storey was constructed
which expanded capacity to 244 beds.
Return to top

Donations




Society for the Aged Sick has been caring for the destitute
and elderly sick since 1968.
Their mission is to provide quality care for the aged sick
and destitute and help them lead meaningful and enriching lives.
Your donations will be used to provide essential residential and nursing care to our residents.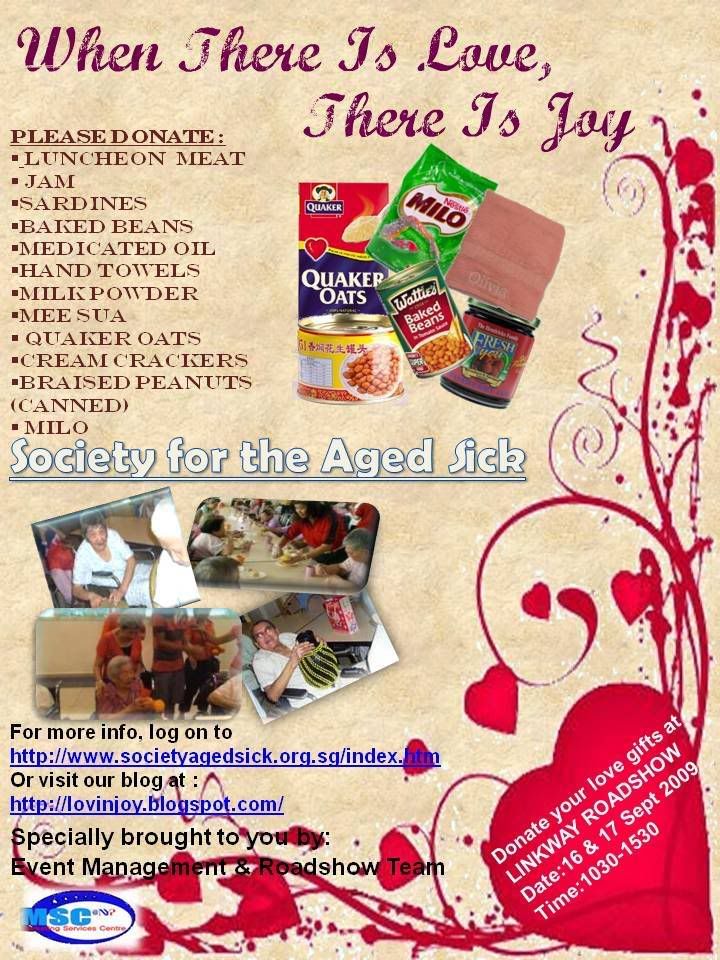 You can help with our donations too!



Luncheon Meat
Jam
Quaker Oats
Sardines
Cream Crackers
Milo
Braised Peanuts (Canned)
Baked Beans
Medicated Oil
Towels
Milk Powder
Mee Sua
& other canned food
If you are interested in donating, please contact us at emrsteam4@gmail.com

Return to top

Schedule
10.30am - 11.30am: Introduction & Ice-breaker
11.30pm - 2.00pm: Lunch Break
2.30pm - 3.00pm: Preparation
3.15pm - 4.15pm: Concert
4.30pm - 5.00pm: Dinner
5.00pm- 5.30pm: Farewells

Return to top


Contact Us
For any questions or comments about this site, contact:
emrsteam4@gmail.com

Return to top



Videos
'Ji Pa Ban'


'Dance'


'Hua Hi Tio Hou'


'Hao Xin Fen Shou'


'Re Qin De Sha Mo'

Return to top